30 Oct

Easy-Berry-Breezy Halloween Cocktail

Are you hosting a Halloween party this year? How about serving your guests some blood? Although, unless your guests are vampires that'd probably appreciate something that tastes a bit fruitier… but looks like blood! Have no fear, we've got your covered with our very fruity easy-breezy fruit tisane inspired Halloween cocktail!
Easy-Breezy Fruit Tisane Syrup
We've used our Raspberry Breeze fruit tisane for this berry easy syrup. However, any fruit teas from our
Fruit Cooler box
would do! I really want to try and make it with our Jungle Berry Fruit tisane next time! You can also experiment with the sweetness, as that's something very personal. I found 3 tbsp sugar to be perfect for the amount of syrup I was making, however if you want it to be sweeter, you can increase the amount of sugar you're using.
Halloween Decoration
Depending on your glasses, you want to make sure that your cocktail toothpicks are long enough to thread on the blackberries. Personally I love
these ones
! An idea would also be to put a raspberry in between the blackberries. You could also decorate the glass rims with black or red sugar like I did in this
Bloody Halloween Hibiscus Ginger Rum Cocktail recipe.
Easy-Breezy Halloween Cocktail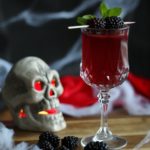 Tea syrup:
1 cup of hot water
2 tbsp tbps Raspberry Breeze tea
3 tbsp sugar
Cocktail:
Fresh Mint
4 Blackberries
1.5 oz White rum
2 oz tea syrup
400 ml Cranberry juice
Decoration:
4 Blackberries
Fresh Mint
2 toothpicks
Tea Syrup
pour 1 cup of hot water into a pot

add 3 tbsp sugar and 2 tbsp of Raspberry Breeze Fruit Tisane

boil for 3 min (boiling it makes the syrup more intense)

take from the hob, strain and put in the fridge to cool down
Cocktail
mash 2 mint leaves and 2 blackberries in cocktail shaker

add 1.5 oz white rum

add 2 oz tea syrup

add ice, cover with a glass and shake it

strain the mix into a cocktail glass

top up with cranberry juice
Decoration
thread 2 blackberries onto the toothpick

place on top of the glass and decorate with fresh mint
What are your favourite Halloween cocktails?
Let us know what your favourite Halloween cocktail is! Also, if you decide to try out our Halloween potion, please let us know what you think and give our recipe a rating!
More Halloween Recipes
Hosting a Halloween party this year? Here are some more spooky Halloween recipe ideas to really wow your guests!


PS: in case you're looking for last minute herbal tea inspired Halloween costume idea, feel free check out this hilarious video.