15 Oct

13 Tea Blogs Every Tea Lover Should Follow

The tea world is so vast and exciting, no matter how much we learn – there is always more to discover. That's why we at teapro love following tea bloggers! All of them have their own unique angle, skills and attitude towards tea, focusing on a variety of tea topics from tea reviews, education to exciting recipes!

So without further ado, I'd like to introduce you our 13 most favourite tea bloggers!

Blogger: Meet Lu Ann, a self-proclaimed "teaaholic", who has discovered her passion for good tea in her tender childhood days. Having started her blog in 2011 Lu Ann managed to bag the Finalist title for the prestigious World Tea Award three times!

Topics: The Tea Cup of Life covers a variety of topics, ranging from tea reviews, general musings as well as tea education. She has also released a super cute book called "Tea-spiration" – a perfect light read to enjoy alongside your cuppa.

In her own words: "Like life, I believe that tea is what you make it and The Cup of Life's main goal is to help readers enjoy tea in more than one way. It's not just for drinking! It is my joy to teach and share everything I know about the Leaf with you."

Blogger: Meet Daniela, a professional tea sommelier and the founder of Teacachai. The name for her blog took inspiration from the word "cachai" meaning "got it?" in Chilean slang.

Topics: Teacachai is very multifaceted blog with lots of in-depth education on tea. Our most favourite section though are the amazing tea infused recipes! Just check out this gorgeous rose latte! Yumm…

In her own words: "I am Chilean, married to a Brazilian, we have a Canadian son, an American daughter and we currently live in Chicago." – can't get more international than that!
3. Life is Better with Tea
Blogger: Meet Mary Ann, an award-winning tea expert, retired registered nurse, and author writing tips on all types of tea and herbs.
Mary Ann is convinced (just like us here at teapro) that Life Is Better With Tea. In her highly engaging blog, she help her readers explore the world of tea and herbs by showing them how to make smarter tea choices, where to buy the best tea, and how to incorporate tea into their daily life.
Topics: Mary Ann covers a range of topics on her blog, including the benefits of tea, tea reviews and exciting tea recipes (probably our favourite topic on her blog!). She also talks about the business of tea and about her own journey of starting a bottled iced tea company. 
In her own words: "I believe tea is more than a beverage; it's a lifestyle. Tea calms the mind and soothes the spirit. If you want to live well, start by drinking tea."
Blogger: Meet Kathleen Jones, the tea & health enthusiast behind Simpltea.
Topics: Simpltea covers topics such as tea health benefits, tea types, tea culture, and cooking with tea. We particularly love their tea benefits articles. For example, their article about chai tea benefits not only mentions science-backed benefits but also includes a delicious recipe
In her own words: "We believe that tea has the remarkable power to bring warmth, comfort, and joy into our lives. We're your tea-loving friends, dedicated to ensuring you discover the perfect cuppa through our whimsical evaluation process."
Blogger: Meet Ricardo, the first Colombian to obtain the certification of Japanese Tea Advisor by the Nihoncha Instructor Association. Ever since his first visit to Japan, Ricardo has fallen in love with Japanese Green tea and is enticing you to do the same.
Topics: Rarely (and we really mean it) will you find such a vast amount of in-depth, well researched information on any type of Japanese green tea!
In his own words: Ricardo's mission (and we totally approve) is make sure "that one day words like sencha and matcha will be as common as espresso and cappuccino. […] There is a tea renaissance happening outside Asia, each day new tea enthusiasts join the cause."
Blogger: Nicole Wilson, aka "Resident Tea Nerd" has been writing about her love for tea for over 10 years and is a proud winner of the 2018 World Tea Award for Best Tea Blog.
Topics: Nicole covers a variety of topics, ranging from tea education, tea books, best places to have tea, as well as cool teaware and tea gadgets. Our favourite sections though are probably her in depth guides on Matcha and Pu Erh.
In her own words: "I love tea…a lot! I've been sharing my love for the leaf on this blog since 2008. Since then tea has connected me with people around the world and opened more doors than I could have ever imagined."
teapro subscription journey
Blogger: Jee is a tea lover and a certified tea sommelier from New York with a big passion for afternoon tea, tea and food pairings and other tea related things.
Topics: Needless to say, Afternoon tea is a big topic on Jee's blog! She's even put together a complete checklist of every single Afternoon Tea place in New York City! Next time we're in New York, we'll definitely know where to look. Besides Afternoon Tea, her blog boasts with an impressive number of incredibly appetising tea recipes.
In her own words: "Through drinking a crapload of tea, I became a bit of a tea snob. I'm big on learning the basics through foundation courses so once I knew I wanted to learn more about tea, I became a student at ITEI, a tea school in Canada where I got certified as a Tea Sommelier.
Blogger: Meet Sara, a Brooklyn tea lover and a certified Tea Sommelier. Even though Sara is enjoying a successful career in the tea industry, she humbly says that she will forever be a student of the leaf –  the journey of tea lasts a lifetime. How true!
Topics: Apart from tea reviews, Sara also focuses on tea culture and it's (long and complex) history. We're also big fans of her Tea Industry Interviews *wink*.
In her own words: "I love the flavors, culture, emotions & history behind tea. I use my palate to write about tea for various websites, and even judged the International Chocolate Awards. "
Blogger: The girl behind this soul-warming blog is called Kimberly and her love for tea is definitely not a secret! Outside her blog Kimberly is a crafter, a baker, a crocheter and a huge fan of almost everything 1950's (which is very well reflected in her gorgeous logo).
Topics: Kimberly's focus lies entirely on reviews of (mostly) Japanese teas. Needless to say, her blog has the biggest selection of really well structured in depth tea reviews! Want to try a new tea, but not sure if you'll like it? Well, chances are you'll find a review on her blog!
In her own words: "I started this blog because I wanted a creative outlet that I could use to channel my love for tea. I also knew I wasn't alone in my love of tea and I thought that starting a blog all about it would be a great way to get to connect with fellow tea lovers, and to further develop my knowledge of everything the tea world has to offer."
Blogger: Meet Bonnie, a passionate cook and tea enthusiast. The title of her blog sure does make us very thirsty for tea (even more than usual).
Topics: Bonnie's blog is incredibly well structured and her tea infused recipes look absolutely mouth-watering. She also writes reviews on teas and tea places. However, our most favourite part of her blog is the "Crafts" section. Just look at these cute Christmas tree "cup of tea" ornaments!
In her own words: "I started Thirsty for Tea as a way for me to connect with others who love tea as much as I do, and to broaden the idea of what tea time means."
Blogger: Connie started her blog back in 2015 as a result of her "small obsession" with loose leaf tea. (Connie, we feel you! We're #looseleaflovers all the way!) She started the blog initially more as a tea tasting journal, where she could keep track of all the teas she's tried. However, as her tea collection grew, so did her blog!
Topics: On Connie's blog you'll be able to find reviews of teas, tea shops, tea books and tea events. She even came up with her own rating scale, which makes her reviews as transparent as possible.
In her own words: "The goal and intention of this blog will always be about providing my honest opinions and thoughts."
Blogger: The tea squirrel goes by the name of Anna. Whether you want to have a new exciting sensory experience, want to explore the vast world of tea and its cultures or just want to relax, The Tea Squirrel got you covered!
Topics: The blog is a healthy mixture of tea reviews, tea and food pairings, tea experiences around the world as well as general tea thoughts and musings. Plus, she features some very delicious looking tea-infused recipes! (We're feeling rather hungry after seeing all those dishes!)
In her own words: "I'm dedicated to transforming tea into a captivating experience." (And she's doing it really well!)
Blogger: Tea thoughts was founded by Nazanin, whose love for tea began in her childhood with "Noon panir and chayee shirin" – Persian bread and cheese with sweet tea.
Topics & Shop: Nazanin first caught our attention on Instagram, displaying her beautiful tea pins! Since then she expanded her tea shop to include pottery, apparel as well as home decor items!
In her own words:  "While I liked my job, I didn't have the artistic creation that I so badly needed. So I decided that I would start a blog where I reviewed different teas. Then, I was gifted a tea book where I started to read about the history of tea, how it's brewed, the cultivars etc! [..] Soon after I tried pu'er for the first time. The rest is history!!!"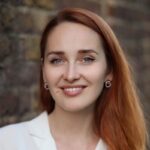 Teapro co-founder. Favourite tea - Long Jing Dragon Well Green Tea. Obsessed with film, photography and travelling.