01 Jun

Everything You Need to Know About White Tea
What is white tea?
White tea is the least processed and therefore the most delicate tea type, made from the Camellia Sinensis plant. It originates from Fuding, in the Fujian Province of South East China. However, nowadays other Chinese regions, such as Yunnan or Guangxi, as well as major tea producing countries like India, Sri Lanka, Taiwan, Africa and even Hawaii have all started their own (rather successful) white tea productions.
Good quality white teas are picked very early in spring (also known as First Flush), when the dormant tea bushes start sprouting their delicate buds, finally coming to life after the quiet winter months.
The most expensive and the most famous Chinese white tea is called Silver Needle. It is composed of only young buds, so fresh and delicate they are still covered in downy white hair. The young leaf sprouts are meticulously hand-picked, careful as not to damage them, since whole buds are one of the major signs of good quality.
white tea cultivars
In the Fujian Province, the white tea is usually harvested from the bushes of a cultivar called Dai Bai, also known as the Great White Cultivar.
The white teas originating in Yunnan are usually plucked from the bushes of the Chang Ye Bai Hao varietal.
The Indian white teas come from Camellia Sinensis Assamica varietal. You can read about the difference between Camellia Sinensis var. Sinensis and Sinensis var. Assamica here.
taste
White tea is known for its mellow and delicate flavour, which is often described as floral, fresh, fruity, with a hint of cucumber or melon. Some white teas (like Shou Mei) are slightly more full bodied, with nuttier and earthier notes as well as sweet honey flavour.
It is important to mention that the tasting notes vary considerably, depending on which parts of the tea plant have been used (buds vs. leaves) as well as the factors like cultivar, location, weather, soil, processing and even the temperature at which it's been brewed.
white tea origins
As mentioned previously, there are also some extraordinary white teas from other countries around the globe. We'll dive deeper into those when we get to the individual tea varieties.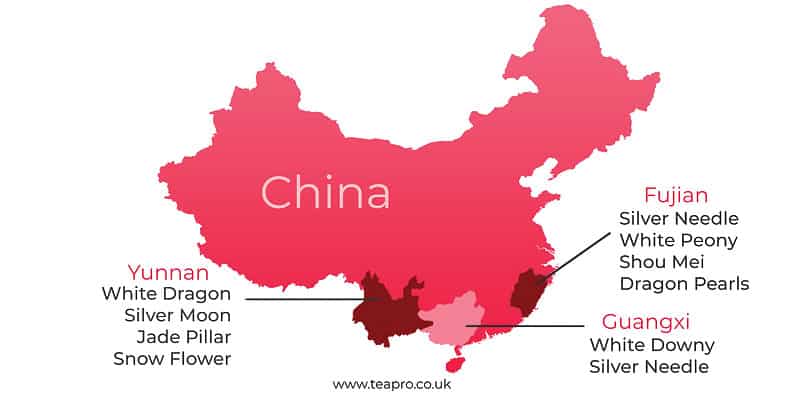 BREWING TIPS
Because of how lightly white tea is processed, it's traditionally recommended brewing it at around 75°C to avoid burning the leaves, which in turn could lead to the tea becoming too bitter.
However, we found that with good quality loose leaf white tea, it's actually quite safe to steep it at higher temperatures.
In fact, here at Teapro HQ, we quite like brewing our white tea at higher temperatures, as it brings out earthier and nuttier notes, giving the tea a richer, more full-bodied flavour. Our verdict is: be adventurous and try brewing white tea with temperatures anywhere between 75°C – 95°C. What differences in taste do you notice? Leave us a comment below!
SILVER NEEDLE
Origin: Fuding and Zhenghe in Fujian Province, China
Tasting notes: fresh, smooth, buttery, melon, cucumer, floral, honey
Alt. names: Baihao Yinzhen
Silver Needle is considered the highest-quality white tea. It is harvested only for couple of weeks each spring and contains exclusively young tender buds, freshly plucked right before opening. The leaves of Silver Needle are characterised by (you guessed it) its unique needle like appearance covered with white downy hair on the bud. When brewed this tea boasts with fresh melon-like aroma, rich body and smooth delicate cup.
The two major cultivars used for Silver Needle production are Fuding Da Bai and Zhenghe Da Bai, named after the two main production regions. In addition that that, the processing technique of both regions differs – the Zhenghe Silver Needle is usually a lot darker, with significantly longer piled-up time for oxidation, yielding a tea with fuller body than the latter style, which is generally lighter with shorter oxidation.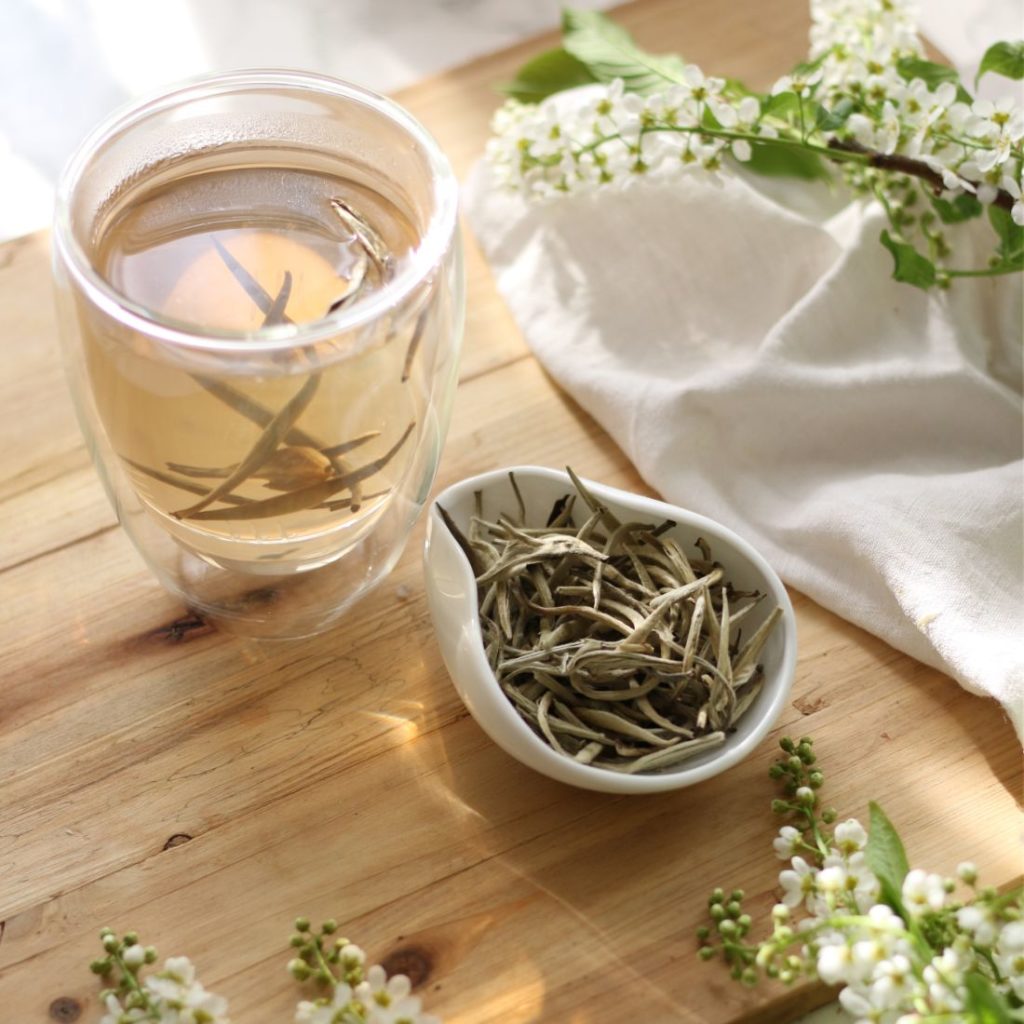 WHITE PEONY
Origin: Fujian Province, China
Tasting notes: fruity, floral, honey, nutty, sweet
Alt. names: Bai Mu Dan; Pai Mu Tan
White Peony or Bai Mu Dan varietal is originally from Shuiji in Fujian Province and has a larger leaf. Fuzzy buds are plucked along with the tender bit of the stem and top two leaves just below the bud. After plucking the tea leaves are dried in the sun or in closed rooms without any technical aid. The natural oxidation that takes place during this withering gives White Peony beautiful, plush flavors. The brewed liquor should be golden with a slightly nutty flavor and sweet, mild taste, slightly richer than Silver Needle, yet not as strong as Shou Mei.
SHOU MEI
Origin: Fujian Province, China
Tasting notes: fruity, floral, honey, nutty, sweet
Alt. names: Sow Mee, Longevity Eyebrows
Shou Mei is also known as Long Noble Life Eyebrow, due to its thin and crescent-shaped leaves that resemble eyebrows.
Once the tea leaves are harvested they are set to naturally wither under the sun. This tea undergoes almost no oxidation, just a slight natural process that gives it its dark colour and bold flavor. Some lower grades of Shou Mei may be golden in colour with many black and red leaves, making a darker brew. The flavor and aroma is sometimes described as more similar to that of oolong tea than other white teas.
JASMINE DRAGON PEARL
Origin: Fujian Province, China
Tasting notes: sweet, fruity, melon, peach, honey, grassy
Alt. names: Xue Long
For this tea only the fresh young buds with their velvety appearance are plucked.
Snow Dragon has a light and fresh taste. The cup colour is light, clear and slightly golden-yellow. The production of this tea is quite unusual because the fresh leaves are not processed like white tea but more like green tea.
The final careful and gentle hand rolling in a heated wok-type pan gives the tea its beautiful appearance.
 WHITE TEA CAKE
Origin: Yunnan Province, China
Tasting notes: sweet, fruity, melon, peach, honey, grassy
Alt. names: White Pu Erh
This tea combines the techniques of white tea and pu'erh tea production in Yunnan Province. The white tea leaves are handpicked and withered until they are soft enough to roll. After rolling, the leaves are piled up together for 2-3 days for extra fermentation under close attention. Once that step is complete, the leaves are spread out to air dry fully and then roasted to dehydrate the leaf. After at least one year of aging loose, the leaves are ready to be re-steamed and compressed into a tea cake. The brewed liquor has the subtle characteristics of white tea, light color and subtle flavors, rather than the characteristics of pu'erh.
SNOW BUDS
Origin: Fujian Province, China
Tasting notes: delicate, fresh, smoky, floral, nutty
Alt. names: Xue Ya
This very rare white tea is from the Fujian Province of China. Traditionally, two leaves and a bud are hand picked, then naturally dried, giving the leaves a silvery and green appearance with a light delicate refreshing taste. The smooth liquor has clean notes of unripe fruits, light wood and just a touch of smoky astringency.
DRAGON PEARLS
Origin: Fujian Province, China
Tasting notes: grassy, fruity, smooth
Alt. names: Phoenix Eye
Bai Long Zhu White Dragon Pearls is an exquisite white tea from Fuding, Fujian Province. Tender buds plus one to two leaves are hand plucked and rolled into pearl shapes, producing a tea that is smooth, light and fruity. Tangy notes of yuzu are perfectly balanced with bright peachy sweet notes, reminiscent of a custard tart.
WHITE DARJEELING
Origin: Himalayas, Darjeeling, India
Tasting notes: nutty, muscatel, honey, sweet
Growing in Himalayas at an altitude of almost 2000, it is the minimal processing that sets White Darjeeling tea apart from its more famous black Darjeeling counterpart. With careful plucking, it is made sure that only new unopened tea buds with the two surrounding young leaves are selected from the top of the bush. After harvesting, the tea is carefully rolled by hand, not to damage the leaves and bud. Once withered in the sun, the tea leaves are dried under soft heat to prevent further oxidation.
The white variant of Darjeeling tea has very fluffy and light tea leaves, a delicate aroma and brews to a pale golden colour with a mellow taste and a hint of sweetness.
JADE PILLAR
Origin: Yunnan Province, China
Tasting notes: nutty, fruity, mellow
Harvested in early spring, hand-rolled and then individually dried this delicate tea reveals to the drinker the art of tea production and the high state of Yunnan tea culture. It brews a clean and fresh cup with a slightly nutty and fruity aroma.
MALAWI SATEMWA ANTLERS
Origin: Malawi, Africa
Tasting notes: lychee, honey, woody, smoky
This incredible tea is composed exclusively of stems, which goes completely against the rules of tea production, which state that the highest quality tea should contains as few stalks as possible. Nonetheless, this tea is very highly prized and has a complex flavour, reminiscent of honey, wood and a slight smokiness.
white tea and caffeine
First of all, it's important to note, that higher temperatures and longer steeping time will result in more caffeine in your cup.
When it comes to White Tea, the caffeine content varies considerably 30 –  55mg.
(In comparison, coffee has around 95mg per cup).
It has been found that young buds store the highest amount of caffeine.
Consequently teas composed out of buds like Silver Needle or Snow Bud contain the highest amount of caffeine, whereas White Peony, which is contains both buds and young leaves has proven to have less caffeine.
The slightly more mature leaves used for Shou Mei have less caffeine, which is reduced even further during the light oxidation process.
The big question is, if teas like Silver Needle have a lot of caffeine, why do they make us feel calm and relaxed?According to this article, young leaf sprouts, while having a high amount of caffeine are also rich in L-theanine, an amino acid that is responsible for promoting a relaxed and calm state of mind.
It counteracts the effects of caffeine, making you focused and calm at the same time. Let's look at this and other compounds in more detail.
white tea compounds
L-THEANINE
White tea has also the highest concentration of L-theanine, which boosts levels of GABA, as well as serotonin and dopamine. These chemicals are known as neurotransmitters, and they work in the brain to regulate emotions, mood, concentration, alertness, and sleep, as well as appetite, energy, and other cognitive skills. Increasing levels of these calming brain chemicals promotes relaxation and can help with sleep.
POLYPHENOLS
Because of its minimal processing, white tea has the highest amount of polyphenols.
Polyphenols are plant-based molecules that act as antioxidants inside the body, protecting the cells from damage caused by the free radicals. Too much free-radical damage can have harmful effects on the body. It is linked to ageing, chronic inflammation, a weakened immune system and even cancer.
EGCG
White tea contains a variety of active catechins including Epigallocatechin Gallate, which is very useful in fighting chronic diseases like cancer.
TANNINS
While the levels of tannins are lower in white tea as compared to the other varieties, it is still useful in warding off a lot of conditions.
THEAFLAVINS
These polyphenols directly contribute to the bitterness and astringency of the tea. The quantity of TFs found in white tea is the lowest when compared to black and green teas. This gives the tea a sweet flavor.
white tea health benefits
DETOX
White tea helps your body get rid of toxins by improving the function of kidneys and liver.
WEIGHT LOSS
Research shows that catechins found in white tea help burn fat cells and boost your metabolism, promoting weight loss.
MEMORY
White tea contains L-theanine, manganese, zinc, selenium and catechins which improve your memory.
HEALTHY SKIN AND HAIR
Research shows that white tea has antiseptic and antioxidant properties which protect the skin from the cellular damage caused by free radicals. It also contains a catechin called EGCG, which maintains healthy hair cells, reducing hair loss and enhancing growth.
ANTI-AGING
Free radicals in our body cause damage to our skin's DNA and can accelerate skin aging. But don't worry! White tea is rich in polyphenols that help neutralize those nasty free radicals.
BOOST IMMUNE SYSTEM
Catechins present in white tea help reduce inflammation, regulate the immune system and increase resistance to infections.
SUPPORT DIGESTION
The flavonoids and antioxidants in white tea are known for stimulating the intestines and reducing gas. A cup of white tea can also help you alleviate cramps and stomach acidity.
LOWER BLOOD PRESSURE
White tea contains Catechins, Saponins, Theanine and GABA which all could contribute to reducing high blood pressure.
LOWER CHOLESTEROL
Catechin, which is found in White tea, can block the formation of bad LDL cholesterol, helping to prevent plaque formation in the arteries.
MANAGE DIABETES
The catechins in white tea have been found to play an important role in the treatment and prevention of type 2 diabetes.
REDUCE THE RISK OF CANCER
It has been found that white tea contains the highest concentration of catechins EGCG which have anti-cancer properties.
a few words of caution
–  Do not consume white tea for at least an hour after a meal if you suffer from anemia, as white tea hinders the absorption of iron in your blood
–  Make sure to keep white tea intake low if you're sensitive to caffeine
–  Consult a doctor before consumption if you're pregnant or breastfeeding
DISCLAIMER
This content is for informational and educational purposes only. It is not intended to provide medical advice or to take the place of medical advice or treatment from a personal physician.
white gold teapro box
If you feel compelled to try out white tea, we recommend checking out our  "White Gold" box. We've included our favourite white teas: Silver Needle, White Peony, Shou Mei and Jasmine Dragon Pearl. You will also receive a FREE infuser glass worth £15 with your first box!
Let us know in the comments what's your favourite White Tea. Also feel free to share your tasting notes with us, we're always excited to hear about your steeping stories!
Tatjana and Tom, Teapro