25 Sep

Surprising Benefits of Corporate Gifting: Why it Matters More than You Think

Have you ever heard the phrase "A Company is Only as Good as the People it Keeps"? 

Corporate gifting is your company's heartfelt expression of gratitude. It has the potential to deeply resonate with your employees whilst also yielding multiple surprising benefits for your brand.

Still on the fence about sending out that corporate gift? Let's take a look at potential benefits corporate gifting could provide for your business.
1. Enhance Workplace Wellness and Productivity 
You can offer a great support system to your employees through corporate gifting. In a thesis by Srivasta, her study states that individuals with a high support system will experience less negative effects of stress on their wellness. So the gesture of a corporate gift can reduce employee absence, increase productivity and improve energy and morale. 
Consider a corporate gift that can provide wellness and productivity benefits mentally and physically, so both you and your employees can reap the rewards of your investment!
2. Gain your Employee's Trust
89% of survey recipients believe that corporate business gifts are bringing individuals closer to one another. Businesses run on relationships; recognising and acknowledging these relationships are key in strengthening employee bonds.
Think of corporate gifting as a secret recipe for a positive and productive work place.
Let's put this into perspective: you are given a branded wellness gift box from the company you work for. When you receive this gift, your first thought is that your company values and appreciates your hard work. Not to mention the personalised touch to serve you a reminder of the company. This simple gesture can help to gain your employee's trust.
A social psychological study states that the presentation of a gift is an imposition of identity. So whilst gift giving can gain your employee's trust and sway them into a productive mindset, it is essential to take into consideration the timing of the corporate gift (like during the Christmas season!).
You want your employees to trust you and believe you are giving them a gift out of your best interests and not exploiting them through a bribe.
3. Turn your Employees into your Brand Ambassadors
Why do people want to work for companies like Nike or Google? Person-to-person communication plays a crucial part in this; we know that these companies treat their employees well. That is not to say that you should be giving out massages or free holidays, however, a small token of appreciation can go a long way.
By treating your employees well, they become the biggest advocates for your company. These positive interactions with your employees can make others increasingly and personally aware of your brand, and as a result, can contribute to your brand equity.  
4. It's Profitable!
It's not just about giving, it's also about what it says about your company. Based on gifting industry trends of 2022, 83% believe that business gifts generate positive ROIs for organisations.
Corporate business gifts are a type of Return On Investment. This is why corporate gifting should not be seen as an extra expense. This investment is likely to attract new clients and employees who want to be associated with a company known for placing a high priority on its employees. 
5. Increase Your Company's Loyalty
Corporate Gifting isn't limited to your staff! You can use corporate gifting to increase your customer loyalty. 
A branded corporate gift with your company logo can help consumers to subconsciously identify your brand. This is called brand recall, and is used in various marketing strategies to ensure their brand deeply resonates within the minds of their clients.
People often refer to the Tesco Clubcard as an outstanding loyalty scheme. However, it is the entire customer experience that invokes company loyalty. The act of giving back showcases your commitment to nurturing these bonds. As a result, you yield lasting relationships with your clients who are likely to make repeat purchases and recommended your business to others.
Stay true to your values
Corporate gifting could also be a great way to demonstrate your company values, so if sustainability plays a big part in your business, try sourcing gifts in environmentally friendly packaging. 
If you're looking for a branded corporate gift that comes with a personalised message, Teapro offers an environmentally friendly wellness gift box that's perfect for your customers or employees!
So… What's the bottom line on corporate gifting?
With Christmas just around the corner, it's the perfect time to be thinking about sending out that corporate gift. When employees are happy, they do better work and the results speak for themselves.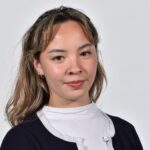 Graphic Communication and Illustration BA Hons Graduate who will shamelessly spend £5 on a cup of chai. I love all things art, graphics, animals, health and sustainability.